MMA's presidential interpretation of our budget, thanks to Dr. David Quek:
OK, lots of words, but in summary, cost of health is increasing, and the government is giving us a lot of money. Not really giving, probably in real term – promising, as everyone is wondering where does the money going to come along.
In actual fact, healthcare being expensive is not a myth.
Let's just review some simple breakthrough of how prices goes up, and how certain quarters ripped the rakyat off, without even being visibly there.
Probably the same kind of BBS (blardy boosheet) that cooked up the service tax of credit cards. Just probably the smartest dumb thing.
Under the PHFSA regulation, under the pretext of treating patient as a whole and must always be prepared for emergencies, all private GP clinics must be equipped with a certified oxygen tank, and some emergency equipment, plus the door to the clinic and other parameters must of certain height and length. Or else, the owner, the doctor will have to face the music in the court of law. Same logic for the price hike for roti canai when the flour price goes up. The end users, the consumers or better known as the patients has to bear the cost. Cost of renovation and cost of unnecessary equipment. Furthermore, the ministry has to pay those officers to spend their time, traveling around the town, to measure this and measure that. Unsubstantiated gossip tells a tale of how the previous previous Hell minister's wife was there to gain from the sales of those oxygen tank and equipment.
As for the current Hell minister, he is more bubbly fun. During the flu season, he can be seen regularly wearing the mask for the uncle on the bus, or the auntie at the waiting area of hospital, as if a normal adult rakyat without any handicap has the trouble wearing one.
Suddenly out of nowhere, he announced the idea of giving vaccine coverage for cervical cancer prevention, with the pretext that it will benefit the masses and reduce healthcare cost, when we don't even have a national cervical cancer screening program. We're still banging on opportunistic screening. To put proper perspective at its place, being vaccinated, will put the ladies less susceptible to HPV (human papilloma virus) the major risk factors for cervical cancer. The magic word is – less. It means even with vaccine, proper screening must be done. Vaccines, in the absence of proper screening module, bite and swallow up a big piece of the healthcare pie, plus giving the vaccinated ladies a false sense of security. So far, there are no unsubstantiated gossips or hypothesis linking to the current Hell minister. Not yet. Anyway, I think he is probably too occupied with his own struggle within the party.
Not so long ago, I blogged about the vague concept of 1hospital. And now, the new healthcare system came up with the concept of 1clinic.
These clinics don't serve as a clinic for the beautiful concept of 1Malaysia, but rather it is just another echo after echo about that 1BBS about '1'.
From PHFSA to 1clinic, the one thing visibly being upheld is the importance to superficiality of healthcare. Shallow indeed. It is much more vital for the clinic to be of proper measurement, but manned by a mere medical assistants (MAs).
If doctors can be replaced by MAs, might as well, put up those beverage vending machines, just replaced those canned drinks with medications.
model MA 2010

Runny nose. 20cents. Piriton.
Cough. 50cents. Benadryl.
Sore throat. 50 cents. Thymol gargle.
Allergic rashes. RM1. Calamine lotion plus piriton.
Fever. 20 cents. Paracetamol.
Fake cough. Fake runny nose. Fake Sore throat. RM 10/day. MCs.
Others, not in the list. Free. GO TO NEAREST HOSPITAL.
During my student years, I had very good experience with MAs, where a handful of them were very skillful and able to teach a lot, but there is just a limit to what they know.
In my current hospy, I had the worst experience with one of the MAs. Maybe it is purely coincidental that I had to be exposed to the most nonsensical pig-headed MA. I am not joking. If you see someone who looks like a pig, that's him.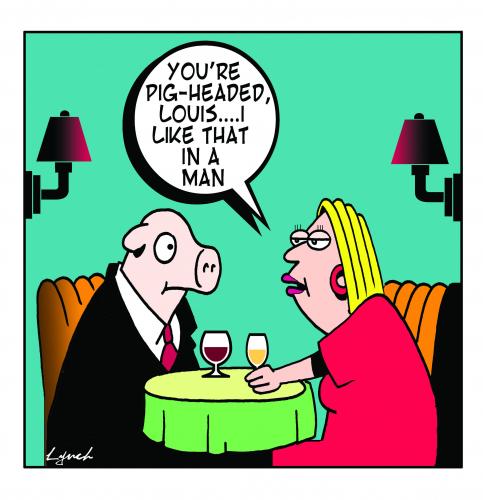 how to spot a rich millionaire.

I was locuming few days back, seated in a room with a house officer. That swine-faced guy suddenly dashed into the room rudely with 4 yellow hospital cards and dropped them on the table, telling us 'See them first' offensively. Then, he rested his filthy bum on the examination bed, while I was attending to another patient. I ignored him, of course. But, the house officer conversed with him. Out of fear or courtesy, I couldn't tell.
HO: Siapa? (Who?)
MA: Adik-adik saya. (My younger brothers.)
HO: Semua adik sakit? (All your brothers ill?)
MA: Ya. (Yes)
HO: Ini semua nama lain-lain bapak, adik ke? (How come all different surname, is it brothers?)
MA: adik sepupu. Semua mata merah. Bagi ubat dan MC je. (Some cousin brothers. All red eye. Just give me the medications and MC)
HO: Kena tengok dulu. (Have to examine first)
HO started off by seeing the first 'adik'. Obviously conjunctivitis. HO told the 'adik' about the medication and the MC to rest. The 'adik' did not want the MC because he is going for exam and he can be safely isolated while taking the exam.
It is good that I had a good thorough HO who checked the 'adik' properly. It would be a sin to miss someone with glaucoma.
After the first 'adik', the MA with both arms folded, furiously demanded that the HO to give all of them the same eye drops and MCs. At some point, he was looking at me, hinting me to do it, overruling the HO good clinical practice.
Obviously, I ignored him totally. There is simply no place for a bird-brained pig in the hospital. He is like the human embodiment of H1N1 – nasty combination of human flu, bird flu and swine flu genomic make-up.
He got fed up and took up the remaining 3 'adik' cards, searching for other doctors who can obey his demand.
Just imagine him being in-charge of 1clinic, might as well call it H1N(1clinic), a clinic being managed exclusively by bird-brained pig-headed human.
And that's 10million taxpayers' money being presumably put to good use.