Read this if you're a Malaysian.
Today is 20th of October, the real first nationwide initiative to fight for our national independence, unknown to many, most Malaysians.
The initiative is a peaceful demonstration called 'Hartal'.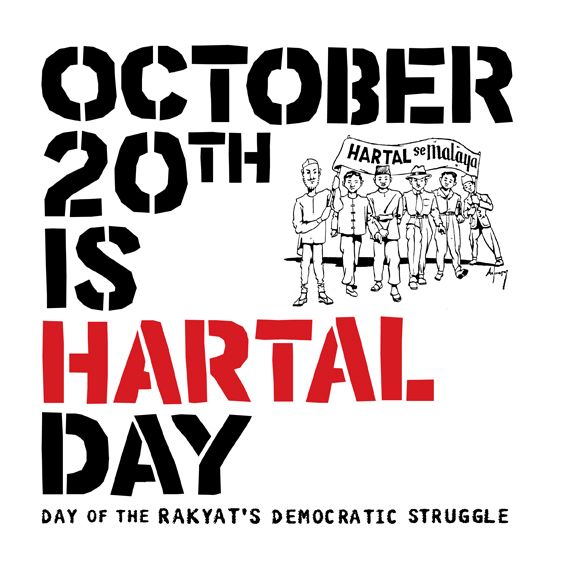 You can find out more by watching the short film by Fahmi Reza named '10 Tahun Sebelum Merdeka'. I compiled the all 4 youtube parts below.
I decided also to pimp the great top 10 below by Fahmi Reza.
31 Ogos datang lagi! Masa aku buat research untuk filem '10 Tahun Sebelum Merdeka' & 'Revolusi '48' aku jumpa banyak fakta menarik pasal sejarah perjuangan kemerdekaan negara kita. Jadi today sempena hari merdeka, aku nak kongsi my top ten favourite myths pasal kemerdekaan 31 Ogos 1957 yang masih banyak bikin kita confuse.

#10. Lagu "Tanggal 31" dicipta oleh Sudirman

Sudirman only covered lagu Ahmad C.B. from the 60's & changed one line from the lyrics. Kalau tak percaya, listen to this!

Tanggal 31 Original version oleh Ahmad CB
.

Tanggal 31 Cover version oleh Sudirman
.


#9. Kita ada "Social Contract" masa merdeka

Where got? Idea kontrak 'bukan-Melayu dapat citizenship in exchange for hak istimewa orang Melayu' mula surface in the 80's. "Ketuanan Melayu" also the same.
.

#8. Malaysia sebuah "negara Islam" sejak merdeka

Sebenarnya Malaysia negara sekular dengan Islam sebagai official religion, bukan Islamic-state!
.

#7. Malaysia bebas 100% dari penjajahan British masa merdeka

Until 1970's British controlled over 60% kekayaan ekonomi negara dan British military terus stay kat Malaysia sampai 1971!
.

#6. UMNO-MCA-MIC mulakan kerjasama politik antara kaum untuk merdeka

Putera-AMCJA dah start much earlier in 1946. Tengok filem '10 Tahun Sebelum Merdeka' kalau tak percaya.
.

#5. Mamat yang design bendera Malaysia tak ciplak bendera US

Sure or not? :)
.

#4. Perjuangan gerila komunis masa darurat bukan untuk kemerdekaan

In 1948, gerila komunis & non-communists lancar revolusi angkat senjata untuk halau penjajah British dari Malaya. Tengok filem 'Revolusi '48' kalau tak percaya.
.

#3. Tugu Negara simbol perjuangan kemerdekaan Malaysia

Kita berjuang untuk kemerdekaan dari komunis atau dari British? Masa kecik, tugu ni buat aku confuse.
.

#2. UMNO pengasas perjuangan kemerdekaan

Before UMNO (est. 1946), Parti Kebangsaan Melayu Malaya (est. 1945) fought for merdeka oredi. Before PKMM, Kesatuan Malaya Merdeka (est. 1938) fought for merdeka oredi. Before KMM, Communist Party of Malaya (est. 1930) fought for merdeka oredi.
.

#1. Malaysia mencapai kemerdekaan tanpa pertumpahan darah

Inilah bapak segala merdeka myths, ditulis dalam semua buku teks, reinforced setiap tahun sejak merdeka. Realitinya, ribuan gerila anti-British terkorban dalam anti-colonial war of independence melawan British. Ribuan askar Melayu terkorban dalam perang penjajah melawan komunis. Ribuan rakyat juga terkorban kat tengah-tengah…
.

Dedicated to the heroic fighters in the cause of liberty, justice and equality. Selamat Hari Merdeka.


x Fahmi Reza