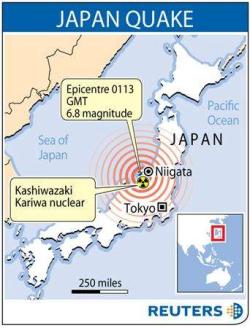 The Richter scale went bullish from 7.9 to 8.9.
Death tolls rocketed.
Sympathy and attention from the whole world centralized on the major quakes area.

I thought that my heart bled facing the disastrous my department's house officers' work ethics.
I thought that it's perfect agony facing the Friday preholiday jam with a blinking almost-empty fuel indicator.

But nothing compares to what Japan is going through.

Anyway, this is not a post to pour my heartfelt sympathy to the millions of unfortunate victims.

I was scouting around the news so far. I guess the government had been hard-at-work in making sure Malaysians in Japan get back to our motherland in one piece.

I was wondering when the government will gear up in preparation of earthquake in Malaysia. Perhaps, it is distantly impossible for our country to be shrouded with quakes, no one should ever be so cock-sure.

We were once upon the time, pretty blardy sure that we won't have tsunami, and well, the last time tsunami 'mildly' hit us, it took away several lives.

I hope everyone when reading the news, looking at the horrendous videos and pictures of the disaster, can think for a milisecond that it could happen right here, right now as you are reading this in front of your computer.

Start preparing in the mildest paranoia, and start cherishing whatever in life that you love so much.